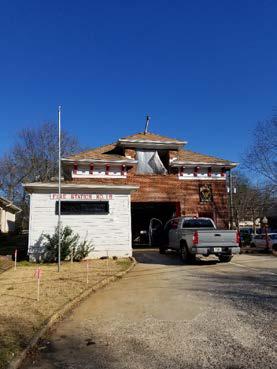 The City of Atlanta, Fire Station #19 is located at 1063 North Highland Avenue NE, Atlanta. Services includes abatement of hazardous materials, replacement of wood trim and framing, LED lamps, door upgrades and plumbing fixture replacement throughout the facility. The project consists of site work, exterior and interior renovations to the existing fire station which includes:
• Site Work: replacement of paved surfaces for parking and driveway areas;
new fence and gate installation; stormwater management systems harvesting and storing rainwater; curb cuts and ramped sidewalks for pedestrian access along adjacent rights-of-way, etc..
• Exterior: window replacements; sealing of building envelope; painting; increasing clearance and installation of new folding door; and more.
• Interior: main floor installation of new hot water heater and existing washer/dryer relocation in basement; new construction of locker room, vestibule, laundry room and toilet room areas and removal of existing sloping concrete floor slab of existing hose drying room. Second floor demolition of existing locker room and bathroom finishes and fixtures to accommodate two accessible bathrooms, shower, and new locker areas.
The project includes environmentally responsible practices for the EarthCraft Sustainable Preservation Program.
SKYLINE Engineering and Construction, LLC in a joint venture with Johnson Laux Construction is providing construction management services for the entire renovation project.
Renovation of Atlanta Fire Station #19