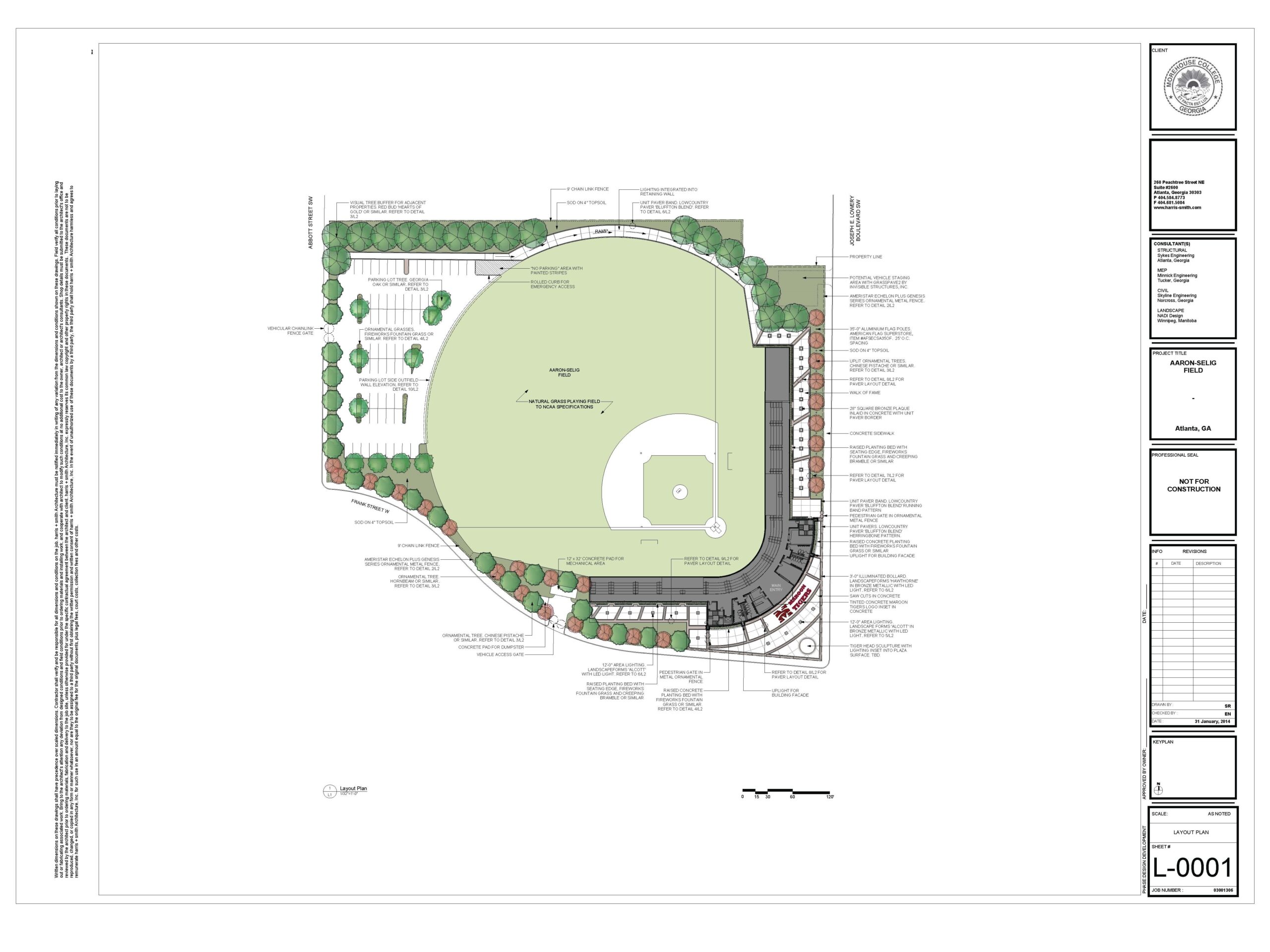 SKYLINE performed civil engineering/site design and Phase I Environmental Site Assessment (ESA) for the Morehouse College proposed baseball stadium on proposed 3.5-acre site.
Civil Engineering Services:
SKYLINE provided civil design services that included:
• Stormwater Management – Redesign of the existing storm drains within the limits of the proposed building and field, and provide underground detention per City of Atlanta green infrastructure regulations.
• Sanitary Sewer – Redesign and supplement existing sanitary sewer within the limits of proposed building and field to accommodate proposed sanitary and grease trap connections.
• Water System – Design domestic water and emergency fire services for the proposed building at adjacent to Joseph E. Lowery Blvd.
• Grading & Wall System: Playing field elevation have
been set to accommodate fan access from the adjacent campus, visual aesthetics from Joseph E. Lowery, parking at the rear of the site, while "balancing" earthwork across the 60 feet of elevation change.
Phase I Environmental Site Assessment (ESA) – SKYLINE performed a Phase I – ESA on approximately 3.5-acre land of a proposed stadium site owned by Morehouse College that was previously a single-family community. The assessment was performed in conformance with the scope and limitations of ASTM Practice E. A detailed environmental database search, records review, and interviews with persons familiar with the property was performed. The environmental due diligence assessment revealed there was no evidence of environmental conditions. However, it was recommended that asbestos building surveys prior to demolition, and geotechnical subsurface investigation is also recommended prior to completion of design and construction.
Morehouse College – Aaron-Selig Field Civil Design & Phase I-Environmental Site Assessment Atlanta, GA